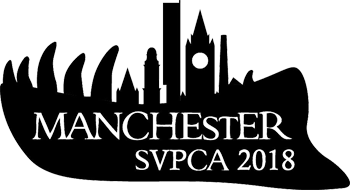 Symposium of Palaeontological Preparation and Conservation
Wednesday 5th September
10:00
Nigel Larkin
The Biddulph Grange geology gallery project: restoring a unique display from 1862 that encapsulates an important stage in the history of the development of geological thinking.
10:15
Adam Smith
From China to Nottingham: the making of Dinosaurs of China
10:30
Martin Nunn
Using theatre skills in a science exhibition: Dinosaurs of China in Nottingham
11:15
Richard Forrest
Challenging preparation of a plesiosaur skeleton from a stressed nodule
11:30
Mark Graham
The air-abrasive technique: re-evaluation of its use in fossil preparation
11:45
Donald Henderson
Rescuing an Early Cretaceous plesiosaur from an active tar sand mine
12:00
Vicen Carrio
An introduction to "The Association for Materials and Methods in Palaeontology" (AMMP) meeting.
Symposium of Vertebrate Palaeontology and Comparative Anatomy
Special Symposium: - Advances in the Vertebrate Tree of Life
14:00
SVPCA opening remarks
14:15
Mike Coates
Sharks uprooted - new perspectives on early chondrichthyans
14:45
Katie Davis
Shaping the avian (super)tree of life
15:15
Sam Giles
Unravelling osteichthyan relationships: evolutionary tales from the head of forgotten fishes.
15:45
Tea Break (Samuel Alexander BuildingFoyer)
16:15
Rob Asher
Confidence in palaeontological systematics: lessons from mammals
16:45
Emma Randle
Tackling jawless fish: continuous characters, rooting and patterns of evolution in Heterostraci
17:15
Oliver Rauhut
Dinosaur origin and success in the early Mesozoic: insights from the distribution of homoplasy
18:00
Welcome Reception (Fossil Galleries, Manchester Museum)
Thursday 6th September
Session: 1 - Early Vertebrates
09:00
Per Ahlberg
An extremely primitive miniature tetrapod from The Late Devonian (Early Famennian) of North Timan, Russia
09:15
Jenny Clack
Acherontiscus, the earliest durophagus tetrapod redux
09:30
Marco Castiello
3D investigation of the head and shoulder of a stensioellid fish reveals Stensioellida to be a valid group of placoderm-grade affinity
09:45
Camila Cupello
Lung evolution in osteichthyans: insights from synchrotron phase-contrast microtomography
10:00
Claire Dobson
Cranial osteology of Pachycormus, and relationships and divergence times among pachycormiforms
10:15
Richard Dearden
A third 'acanthodian' stem-chondrichthyan endoskeleton in a uniquely well-preserved specimen of Diplacanthus crassisimus
Session: 2 - Macroevolution and Palaeobiogeography
11:00
Alfio Alessandro Chiarenza
Climatic drivers behind the demise of non-avian dinosaurs at the end Cretaceous mass extinction
11:15
Neil Brocklehurst
Physical and environmental controls on Paleozoic tetrapod dispersal across Pangaea
11:30
Susannah Maidment
North Africa's first stegosaur and the armoured dinosaurs of Gondwana
11:45
Richard Butler
Standardising for spatial sampling bias demonstrates constrained diversification of Phanerozoic terrestrial tetrapods
Session: 3 - Morphology and Molecules
13:30
Adriana López-Arbarello
Non-random distribution of homoplasy and the definition of actinopterygian clades
13:45
Leah Callender-Crowe
Evaluating the performance and correlation morphological characters in reconstructing avian and squamate evolutionary history
14:00
Roland Sookias
Reconciling morphology and molecular data in inferring phylogeny for extant crocodilians
14:15
Robin Beck
Improvements in the fossil record may largely resolve the conflict between morphological and molecular estimates of mammal phylogeny
14:30
Graeme Lloyd
Meta-analytical integration of fossil and molecular data in phylogenetic inference and the first truly comprehensive phylogeny for Cetacea
14:45
Tea Break (Samuel Alexander Building Foyer)
Session: 4 - Saurospid Phylogeny
15:15
Omar Rafael Regalado Fernandez
Impact of continuous character coding on the reconstruction of the evolutionary history of Basal Sauropodomorpha
15:30
Paul Barrett
Those feathers wonŐt stick: maximum likelihood modelling supports scales as primitive for Dinosauria
15:45
Michaela Johnson
What is 'Steneosaurus'? evolutionary relationships within Teleosauroidea (Crocodylomorpha, Thalattosuchia)
16:00
Philip Mannion
New insights on the phylogenetic relationships and biogeographic history of eusauropod dinosaurs
16:15
Roxanne Armfield
Cranial anatomy of the Palaeocene snake Helagras prisciformis; early implications for crown macrostomatan snakes
16:30
All Poster Presenters
SVPCA Poster Session (Williamson Building)
18:00
Annual Auction (Williamson Building)
Friday 7th September
Session: 5 - Archosaur* Anatomy
09:00
Miguel Moreno-Azanza
The crystallography of the alligatorid eggshell. Insights from the EBSD.
09:15
Jessie Atterholt
A CT-based survey of supramedullary diverticula in extant birds
09:30
Iyra Maharaj
A comprehensive description of Endothiodon bathystoma(Anomodontia, Therapsida), a dicynodont from the late Permian of the Karoo Basin of South Africa
09:45
Liz Martin-Silverstone
A 3D reconstruction and mass estimation of a well-preserved pterosaur from Brazil
10:00
David Unwin
A quantitative protocol for assessing the developmental stage of embryos and its implications for pterosaurs
10:15
Jordan Bestwick
Reconstructing the dietary ecology of pterosaurs using quantitative 3D textural analysis of tooth microwear
10:30
Tea Break (Samuel Alexander Building Foyer)
Session: 6 - Sauropsid Crania
11:00
Claire Bullar
Ceratopsian braincase morphology and palaeoneurology through ontogeny.
11:15
Ray Chatterji
A quantitative analysis of cranial growth and evolution in sea turtles (Testudinata: Chelonioidea)
11:30
Marc Jones
Brain structure supports interpretations of an active lifestyle in a small, iconic British dinosaur
11:45
Dean Lomax
Odd narial features in Ichthyosaurus suggest the presence of salt glands
Session: 7 - Biomechanics and Functional Morphology
13:30
Robert Brocklehurst
Modelling Avian Ventilation Mechanics with 3D Levers and Linkages
13:45
Pernille Troelsen
Functional morphology and hydrodynamics of plesiosaur necks: Does size matter?
14:00
Ryan Marek
An everyday tool: how the avian neck has adapted to (almost) every situation
14:15
Alana Sharp
The role of soft tissues in a biomechanical model of the rat skull
14:30
Carolina Karoullas
Estimating the Flight Capabilities of Fossil Birds from Extant Bird Data and Aerodynamic Theory
14:45
Mariane Delaunay
Do birds have whiskers?
15:00
Tea Break (Samuel Alexander Building)
Session: 8 - Taphonomy and Mammals
15:30
Donald Henderson
Sediments, skulls and squishing Đ taphonomic investigations of ceratopsian skull deformation
15:45
Thomas Clements
Uncovering the impact of palaeogeography on vertebrate taphonomy: an investigation of the Mazon Creek Lagerstätte.
16:00
Elspeth Wallace
Community preservation within the Late Jurassic Morrison Formation, Western Interior, USA
16:15
Hanwen Zhang
Elephas recki: the wastebasket?
16:30
Jamie MacLaren
Walking with Unicorns - metacarpal morphology of the Rhinocerotidae
16:45
Stephan Lautenschlager
Morphological convergence and functional diversification of sabre-toothed vertebrates
17:00
Conference Dinner (Yang Sing, 34 Princess Street, M1 4JY)