Manchester 2018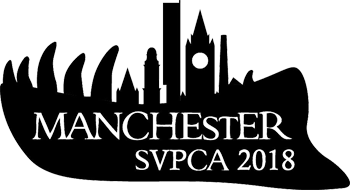 66th Symposium of Vertebrate Palaeontology and Comparative Anatomy and the 27th meeting of the Symposium of Palaeontological Preparation and Conservation
5th - 8th September 2018

We are very happy to be able to invite everybody to the 66th Symposium on Vertebrate Palaeontology and Comparative Anatomy at the Universities of Manchester and Salford, September 5th-7th 2018.
Add it to your diary now
Venue
Platform presentations will take place at the University of Manchester, Oxford Road (Samuel Alexander Building). Workshops and SPPC will be held at the School of Earth and Environmental Sciences (Williamson Building). We will be having our ice-breaker reception at the fossil galleries of the Manchester Museum (evening of Wednesday September 5th). The annual dinner will be taking place on Friday September 7th (venue TBC).
Conference Dinner
Field Trip
The 'field' trip (Saturday September 8th) this year will begin with a morning visit to the recently refurbished Buxton Museum and Art Gallery. Here we will have an opportunity to view the new galleries, including the 'Wonders of the Peak', and will also be given a guided tour of the palaeontology stores, housing the important archive and collections of the Victorian 'Cave Hunters' Sir William Boyd Dawkins and Dr J. Wilfred Jackson. Lunch will be taken at a local pub after which we will walk the short distance to Poole's Cavern, where will have a guided tour underground into the spectacular caves and caverns. This natural cave in Carboniferous Limestone, was occupied from the late Neolithic Period, and was opened as a showcave in 1853. Return to Manchester for 5.00pm.
The cost of the field trip (£30) will cover coach travel to and from Manchester, as well as admission to the Museum and Cavern. Field trip attendees will need to cover their own lunch costs. Numbers are limited to a maximum of 35 participants.
Host Committee
Robert Sansom (Chair, UoM), Robin Beck (UoS), Charlotte Brassey (MMU), Robert Brocklehurst (UoM), Leah Callender-Crowe (UoM), Joe Keating (UoM), John Nudds (UoM), Elsepth Wallace (UoM)
University of Manchester (UoM), University of Salford, and Manchester Metropolitan Museum (MMU).
Sponsors