York 2014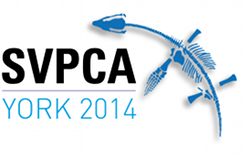 2nd - 5th September 2014
The annual SVPCA and SPPC meetings in 2014 will be hosted by the Centre for Anatomical and Human Sciences, Hull York Medical School in the historic city of York. The city has a long association with palaeontology and geology - the Yorkshire Museum was opened here in 1830 making it one of the longest established museums in the country. It was founded to house the collections of the Yorkshire Philosophical Society, which include many local fossils such as the Kirkdale Cavern Quaternary Mammals and the Jurassic reptiles from the Yorkshire coast, as well as an enormous quantity of archaeological material, especially from Roman, Viking and Mediaeval York.
Venue
The SVPCA talks will take place in The King's Manor. This Elizabethan building is part of the University of York and is currently occupied by the Department of Archaeology. The King's Manor is located in the centre of York on Exhibition Square in close proximity to the Yorkshire Museum and the city walls. Owing to the age of the building, wheelchair access to the lecture theatre is difficult. Please could anyone with access concerns contact the conference organisers ([email protected]).
The SPPC talks and posters, and the SVPCA auction will take place in the York Medical Rooms on Stonegate in the city centre. The symposium banquet will be in the Merchant Taylors' Hall on Aldwark.
Host Committee
Phil Cox
Sam Cobb
Laura Fitton
Paul O'Higgins
Karen Swan
Andrew McIntosh
Phil Morris If you have any questions about SVPCA 2014, please contact Phil Cox ([email protected])